Salam pagi selasa utk semua yg singgah menjenguk ke sini.
Semalam, kerajinan taraf Ultraman Tiga sampai dgn jayanya.
Dan keinginan nak membaking amat meluap2 seumpama
Gunung Merapi yg meluahkan lavanya...cewahhhhh...
Ijak le gitu xcitednye kome,
saje nak mencuba mixer baru yg sebenornya.
Mixer yg lama dah tak boleh guna, bukan sbb rosak,
tp sbb dah jadik sarang lipas sebenonye..

Bayangkan le, bila di keluokan dr lemari,
berderai taik lipas tu keluo dr mixer tu, tu belum lg dipusingkan
mixer tu, harus segala, mak nenek hingga ke cucu cicit dan piat piut lipas tu
keluo secara berjemaah.....maka jln terbaik ialah dgn mengtongsampahkan
mixer yg berumo 10 thn tu...ooo...sedeyyyyyy...
Balik kpd tajuk asal ekk,
ada video dan resepi kat sana,
kome pg le mentelaah dan tgk video tu dulu.
Senang jer buat kek ni, bak kata anak teruna aku,
" senang kacang jer"
Tapikan dlm senang tu ada gak payahnya
pd aku yg anak 6 org ni, kena tunggu kecik berdua tu tido dulu
baru boleh nak mengadun kek, kalo tak,
jenuh le menepis tangan budak Adam tu yg suka usik
sana sini, belum lg dgn si zara yg terkua2 kalo
tak ada org kat dia.
Nak dibawak ke dapur, dapur kami ni kecik come lote,
kang tak pasal2 keluo muka depan Harian metro lak besok,
kisah mak terpijak anak semasa membakar kek, Haruuuu...
Ngape kek aku jadi hazabedah???? sbb masa kek tu tgh naik,
si Adam yg gojes kababoommm tu bukak pintu
oven aku dan dgn selamba badaknya membiokan
pintu oven tu terbukak dgn tampa rasa bersalahnya...
rasa nak menangis aku tau.........
sedih beno bila tgk kek tu kempis dan jadi bantat...
Meh aku tempek resepi hasil cilok dr Joy of Baking.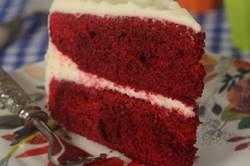 Red Velvet Cake:
2 1/2 cups (250 grams) sifted cake flour
2 tablespoons (15 grams) regular or Dutch-processed cocoa powder
1/2 cup (113 grams) unsalted butter, at room temperature
1 1/2 cups (300 grams) granulated white sugar
1 cup (240 ml) buttermilk
2 tablespoons liquid red food coloring
1 teaspoon white distilled vinegar
1 - 8 ounce (227 grams) cream cheese, room temperature
1 - 8 ounce (227 grams) tub of Mascarpone cheese, room temperature
1 teaspoon pure vanilla extract
1 cup (115 grams) confectioners' (icing or powdered) sugar, sifted
1 1/2 (360 ml) cups cold heavy whipping cream (double cream) (35-40% butterfat
: Preheat oven to 350 degrees F (175 degrees C) and place rack in center of oven. Butter two - 9 inch (23 cm) round cake pans and line the bottoms of the pans with parchment paper. Set aside.
In a mixing bowl
sift
together the flour, salt, and cocoa powder. Set aside.
In bowl of your electric mixer, or with a hand mixer, beat the butter until soft (about 1-2 minutes). Add the sugar and beat until light and fluffy (about 2-3 minutes). Add the eggs, one at a time, beating well after each addition.
Scrape down
the sides of the bowl.
Add the vanilla extract and beat until combined.
In a measuring cup whisk the buttermilk with the red food coloring.
With the mixer on low speed, alternately add the flour mixture and buttermilk to the butter mixture, in three additions, beginning and ending with the flour.
In a small cup combine the vinegar and baking soda. Allow the mixture to fizz and then quickly fold into the cake batter.
Working quickly, divide the batter evenly between the two prepared pans and smooth the tops with an offset spatula or the back of a spoon.
Bake in the preheated oven for approximately 25 -

30 minutes

, or until a toothpick inserted in the center of the cakes comes out clean. Cool the cakes in their pans on a wire rack for 10 minutes. Place a wire rack on top of the cake pan and invert, lifting off the pan. Once the cakes have completely cooled, wrap in plastic and place the cake layers in the refrigerator for at least an hour (or overnight). (This is done to make filling and frosting the cakes easier.)
Cream Cheese Frosting: In the bowl of your electric mixer, or with a hand mixer, beat the cream cheese and mascarpone cheese until smooth. Add the vanilla and confectioners sugar and beat until smooth. Using the whisk attachment, gradually add the heavy cream and whip until the frosting is thick enough to spread. Add more sugar or cream as needed to get the right consistency.
Assemble: With a serrated knife, cut each cake layer in half, horizontally. You will now have four cake layers. Place one of the cake layers, top of the cake facing down, onto your serving platter. Spread the cake layer with a layer of frosting. Place another layer of cake on top of the frosting and continue to frost and stack the cake layers. Frost the top and sides of the cake. Can garnish the cake with sweetened or unsweetened coconut.
Moh le kita mencuba kek ni,
sedap weh...nak pulak bila terasa frosting dia yg masam2 sikit tu...
oh...heavennnn.....